15 Fun Bookmarks to Keep Your Place
Why settle for a torn piece of paper or receipt when you can have something way more exciting? These bookmarks are for readers who want to add some extra whimsy to their reading routine.
Mental Floss has affiliate relationships with certain retailers and may receive a small percentage of any sale. But we only get commission on items you buy and don't return, so we're only happy if you're happy. Thanks for helping us pay the bills!
1. SPROUTS; $8.10
These ingenious silicone markers don't work like normal bookmarks. Shaped like adorable sprouts, they fit inside your book and mark the exact line you're at on the page. Because they're made with a flexible material, you can close the book easily with the sprout inside and it will spring back to shape when you open the book again. The sprouts come in sets of six. For a little luck, check out the four-leaf clover iteration.
Find it: Amazon
2. BUTTERFLIES; $7.79
If you've ever wanted to have a real Disney princess moment, consider buying these bookmarks, which will make it look like butterflies have perched on your books. After slipping the flat part of the bookmark into your tome, the paper butterfly sits above the pages. The set comes with 10 pieces in a variety of designs.
Find it: Amazon
3. CASSETTE TAPE; $9.99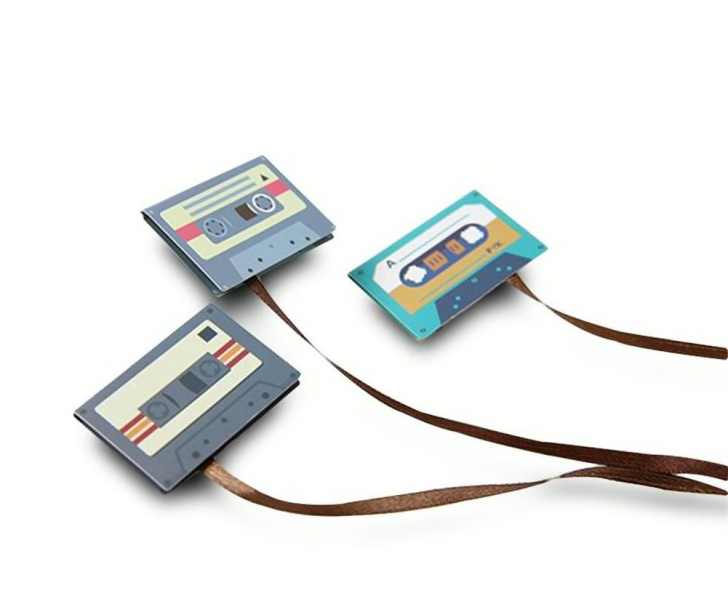 Music lovers will get a kick out of these bookmarks, which poke fun at a common problem we all experienced in the age before CDs: Tape getting yanked out of cassettes. But this time, the loose tape is meant to hold your place in the book, so you don't have to worry about finding a pen to wind it back up. The cassette itself is magnetic and clips to whatever page you want to mark.
Find it: Amazon
4. CROCODILE; $6.99
These clever placeholders create the illusion that a crocodile is lurking on top of your book. When you lift up this intimidating bookmark, it shows the reptile's sharp teeth, warning others not to dare lose your place. (If mammals are more your style, there is also a hippo option.)
Find it: Amazon
5. LAMP; $7.99
Let this lamp-shaped bookmark illuminate where you left off. The lamp shape sits on top of the book while the yellow light-beam fits snuggly between the pages. It comes in three colors: white, red, and gray.
Find it: Amazon
6. LITERARY FEET
Remember that scene in The Wizard of Oz when the house fell on the Wicked Witch of the East and only her feet stuck out? You can recreate that iconic movie scene with a bookmark. Even better, the design isn't restricted to just the witch: You can get all kinds of famous book character feet to stick out of your book. Just some of the literary legs available include Alice from Alice in Wonderland, Daenerys from A Song of Ice and Fire, and a Quidditch player from Harry Potter. There are also some non-book selections, like animals, ballerinas, and Yoda.
Find it: Amazon
7. SKYLINES
Whether you're longing for a city or loving the one you're in, you can celebrate the urban landscape with a skyline bookmark. The silhouette shapes include cities like Berlin, London, and Cleveland. Each bookmark is hand cut and laminated.
Find it: Etsy
8. FOOD; $23.50
Let some of your favorite food keep your place. The plush bookmarks feature a slice of pizza, ice cream, coffee, and an ice cream sandwich.
Find it: Amazon
9. TRANSPORTATION; $5.95
These adorable metal bookmarks look like teeny-tiny boats, cars, planes, scooters, and buses. Each bookmark is a clip that clings to a specific page. Vintage ticket-themed ones are also available.
Find it:Amazon
10. MAGNETIC PALS; $4.95
You'll be even more motivated to read if you have a small buddy smiling at you from the side of your book. You can attach them to any place on the side of the page, so you know exactly where you are in the story.
Find it: Amazon
11. POINTERS; $1.75
These bookmarks also mark the exact place in the book, but without the help of magnets. Instead, they come with stretchy loops that wrap around the entire book. A hand pointing can pinpoint the exact word, in case you're the type that stops reading mid-sentence.
Find it: Amazon
12. DEAD GUY; $12
Squish a character in between the pages with this special bookmark. The top part pokes out but the rest is flattened as if the weight of your book crushed it.
Find it: Amazon
13. DRIPPING LIQUID; $18.33
These fancy bookmarks are handmade from silicon by Japanese designer Kouichi Okamoto. They are meant to look like a thick stream of wax is running down the side of your book, and come in black, red, or white.
Find it: Connox
14. FANCY FLAMINGOS; $6.66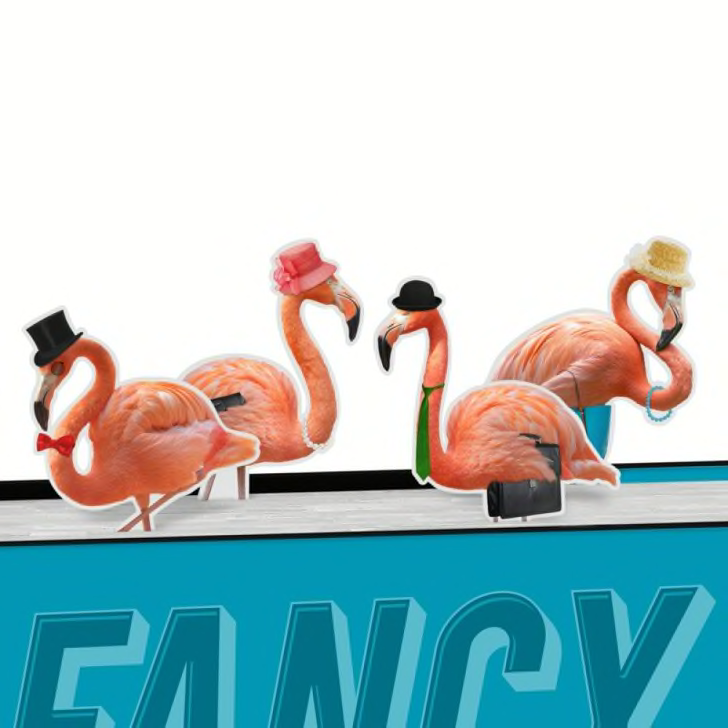 For a little humor, try this set of four dapper flamingos. Their threads include a bow tie, briefcase, pearl necklace, and more. Sick of flamingos? Then try these pandas instead.
Find it: Amazon
15. PASTA AND FORK; $9.95
This bookmark makes it looked like you stopped both mid-page and mid-bite. The creative shape features a stainless steel fork with an attached nylon pasta noodle; the fork folds to the side when you close the book. It comes in three colors (flavors): tomato red, olive, and yellow.
Find it: Mochi Things