18 Offbeat Holidays You Can Celebrate in June
The official start of summer is upon us! Let's celebrate all month long with some unconventional holidays.
1. JUNE 2: YELL 'FUDGE' AT THE COBRAS IN NORTH AMERICA DAY
If you live north of the Panama Canal, today's the day to yell "fudge" promptly at noon local time. It reportedly scares cobra snakes away, and frankly sounds kind of fun.
2. JUNE 3: CHIMBORAZO DAY
Mount Chimborazo in Ecuador is the highest mountain on Earth (yep, higher than Mount Everest). Even though it's technically shorter with an elevation of 20,564 feet versus Everest's 29,029 feet, Chimborazo's location gives it a boost—the equatorial bulge means that its peak is farther away from the planet's center than anywhere else.
3. JUNE 3: NATIONAL DOUGHNUT (DONUT) DAY
No matter how you spell it (we're a doughnut family), today's the official day to celebrate this hole-iest of confections.
4. JUNE 6: NATIONAL THANK GOD IT'S MONDAY DAY!
Apparently there are people in the world who don't feel like the above on Mondays.
5. JUNE 6: NATIONAL YO-YO DAY
A perfect day to Walk the Dog, do the Flying Saucer, Throw Down, and attempt whatever this kid is doing.
6. JUNE 8: UPSY DAISY DAY
If you liked the holiday celebrating Mondays, here's another one for you. It encourages waking up "gloriously, gratefully and gleefully" full of positivity and, if you want, daisies in your hair.
7. JUNE 12: NATIONAL JERKY DAY
No explanation required: chew and be merry.
8. JUNE 18: WORLD JUGGLING DAY
If you're coordinated and like party tricks but felt left out of National Yo-Yo Day, this offbeat holiday is for you—no clown costume required.
9. JUNE 19: WORLD SAUNTERING DAY
A day for slowing down and appreciating the world around you. (Man, everyone is so happy in June.)
10. JUNE 21: GO SKATEBOARDING DAY
If this pup can do it, so can you.
11. JUNE 22: BABY BOOMERS RECOGNITION DAY
Look at them, they're so ready to be recognized! And we can probably all agree that Millennials have had enough attention for now.
12. JUNE 23: LET IT GO DAY
Technically not related to Frozen (but thematically relevant), this is a day for letting go of baggage and hang-ups, and it's a good opportunity to get that song stuck in your head for the next six months.
13. JUNE 23: NATIONAL EAT AT A FOOD TRUCK DAY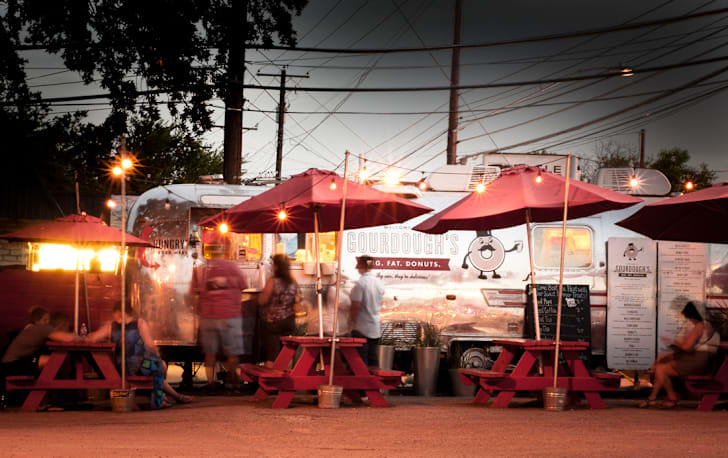 The second annual celebration gives you an excuse to support local businesses by chowing down on a gourmet donut or "mustache pretzel."
14. JUNE 23: RUNNER'S SELFIE DAY
Just be careful out there while you're movin' and groovin' and selfie-in'.
15. JUNE 24: TAKE YOUR DOG TO WORK DAY
But for goodness sake, don't overwork them! This is basically just a memo to the mental_floss staff (hi guys.)
16. JUNE 26: LOG CABIN DAY
This holiday is all about reconnecting to a simpler, more quiet time. In lieu of a log cabin, maybe sit under a tree or don't check Twitter for five minutes.
17. JUNE 27: DECIDE TO BE MARRIED DAY
If you don't get engaged or married on this day, you missed a golden opportunity.
18. JUNE 30: NATIONAL HANDSHAKE DAY
See you next month for another round of quirky holidays! Let's shake on it.
Holidays found in Chase's Calendar of Events 2017. All photos courtesy of iStock unless otherwise noted.