The Real Names of 10 Famous Actors
Stephan C Archetti, Keystone Features/Hulton Archive/Getty Images
There's no business like show business for having to leave your birth name behind. Movie stars throughout the past century have often adopted new names for a ton of reasons, from evading racial bias to pure whim. Most everyone knows that Cary Grant was once Archibald Leech and that Audrey Hepburn was born Audrey Ruston, but they're definitely not alone.
Here are 10 celebrities who you may not know changed their name, and who you may never look at the same way again.
1. Vin Diesel
Jamie McCarthy, Getty Images
"Vin Diesel? Of the New Brunswick Diesels?" It's no surprise that "Vin Diesel" is a made-up name, but it's interesting that Mark Sinclair didn't come up with it because of his acting ambitions (even though he's been acting since he was a child). Vin Diesel became Vin Diesel when he was a nightclub bouncer in New York City, which is why his name makes him sound like a nightclub bouncer. He's the one who made us believe a bouncer could become an international movie star.
2. Helen Mirren
A name like Ilyena Lydia Vasilievna Mironov makes it sound like Helen Mirren was born to Russian royalty, but she was the child of an immigrant diplomat-turned-taxi driver in London. Her father, Vasily, and British mother, Kathleen, Anglicized the family name to Mirren in the 1950s. In 2003, after four decades of stellar work (plus Caligula), Mirren was made a Dame Commander of the Order of the British Empire, making her name even more impressive.
3. Michael Caine
Some actors streamline their names to be more memorable, which is what Maurice Micklewhite did when he became Michael Caine in 1954. He considered becoming Michael Scott (that's what she said), but picked Caine because of Humphrey Bogart's film The Caine Mutiny. In 2016, after a half-century of using the stage name and being unbelievably famous, Micklewhite finally legally changed his name to avoid hiccups at airports.
4. David Tennant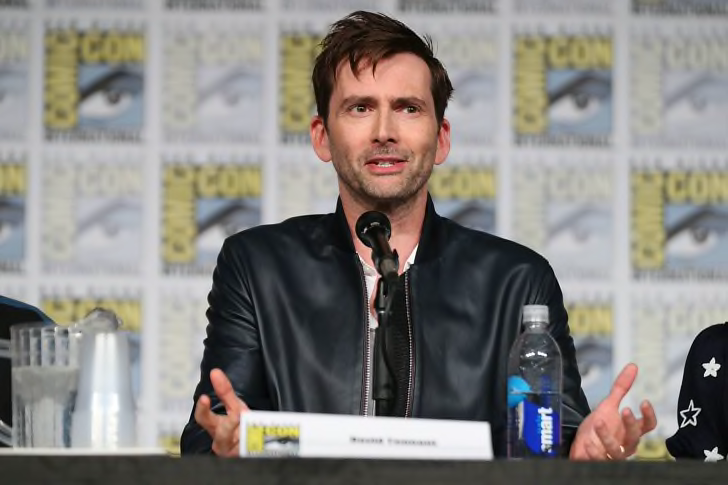 Joe Scarnici, Getty Images for Activision
The guy who became an actor because of Doctor Who—and then became The Tenth Doctor and married his favorite Doctor's daughter, who played his cloned daughter in an episode of Doctor Who—was originally named David McDonald. He picked a stage name for the rather boring (and common) reason that there was already another actor named David McDonald in the union. Since Tennant started working at 16, he did the 1980s teen thing and named himself after Neil Tennant, the lead singer of the Pet Shop Boys.
5. Michael Keaton
Batman star Michael Keaton is yet another example of an actor who needed to change his name because there was already an actor in the Screen Actors Guild with his birth name. Since actors' names are their trademarks, it'd be like someone named Coca Cola wanting to join the Soda Union. When you know that Keaton's birth name is Michael Douglas, you can probably imagine why he had to pick a new moniker. He thought about becoming Michael Jackson. Ultimately, he went with "Keaton" and not for any particular reason (though there is one pervasive rumor—more on that below). Yet to this day, he has never legally changed it; he still goes by Michael Douglas in real life.
6. Diane Keaton
Ever since Michael Douglas changed his name to Michael Keaton, a rumor has floated around that he chose his now-famous name because of an attraction to Annie Hall actress and all-around titan Diane Keaton. Michael has dismissed the rumor, but not even Diane Keaton is actually a Keaton. The actress was born as Diane Hall; she chose her mother's maiden name as her stage name. (And yes, the fact that she shares a surname with one of her most famous characters was very much intentional.)
7. Whoopi Goldberg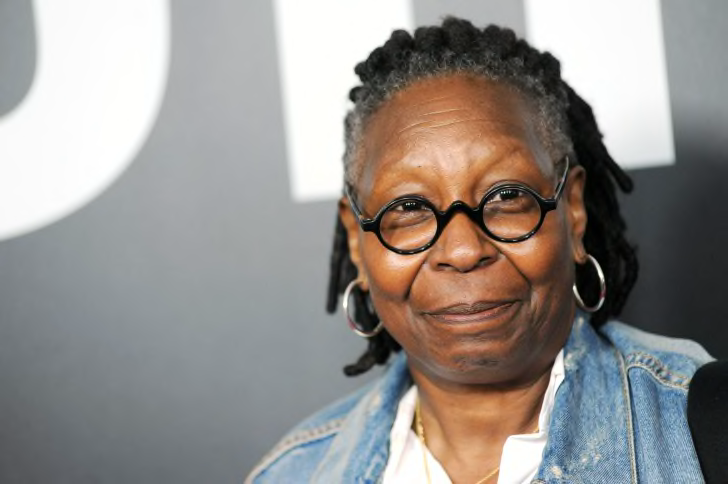 Brad Barket, Getty Images for Netflix
Whoopi. Funny name for a funny person (and a serious actress with an EGOT under her belt). She started life as Caryn Elaine Johnson, and her silly nickname-turned-stage name means exactly what you think it means. "I was a bit of a farter!" Goldberg admitted during an interview with Graham Norton. "The theaters I was performing in were very small, so if you were gassy you had to walk away farting, and people would say I was like a Whoopee cushion."
8. Queen Latifah
When Renaissance woman Queen Latifah released The Dana Owens Album in 2004, she was being true to her roots. Born Dana Elaine Owens in 1970, she changed her name when she was 8 years old after finding Latifah (meaning delicate, sensitive, or kind) in a book of Arabic names at a time when others in her New Jersey neighborhood were switching to names with Arabic origins. When it came time to go pro, she added the "Queen" to evoke strength.
9. Jamie Foxx
When Eric Marlon Bishop was starting out in comedy, he felt that female comics were put up on stage first since there were fewer of them. Looking for a somewhat androgynous name to misdirect emcees picking which stand-up hit the stage next, he chose Jamie, and he landed on Foxx as an homage to comic legend Red Foxx.
10. Lady Gaga
It's appropriately mysterious that there are conflicting accounts as to how Stefani Joanne Angelina Germanotta came by her stage name. The root of it stemmed from producer and then-boyfriend Rob Fusari comparing Germanotta's sound to Queen's "Radio Ga Ga." Fusari takes credit for the full name, saying his phone autocorrected "Radio" to "Lady" when he texted her one day.(He relayed this version of the story when he sued his ex back in 2010.) Gaga disputes that recollection, however; she says she liked how the stately elegance connoted by "Lady" offset and played with the craziness evoked by "Gaga."