11 Thoughtful Gifts for Secret Santa and White Elephant Exchanges
Finding a suitable gift for a Secret Santa, Yankee, or white elephant exchange can be challenging, especially if you don't know the recipient all that well. We wanted to help, so we found 11 items that anyone would be happy to receive.
Mental Floss has affiliate relationships with certain retailers and may receive a small percentage of any sale. But we only get commission on items you buy and don't return, so we're only happy if you're happy. Thanks for helping us pay the bills!
We could all use a little kick in the morning, and this Tennessee-brewed coffee is sure to do the trick. A splash of Kentucky bourbon lends the Arabica beans their unique aroma and flavor, but it doesn't actually contain alcohol, so it's plenty safe for sipping at the office.
Find It at Uncommon Goods for $20.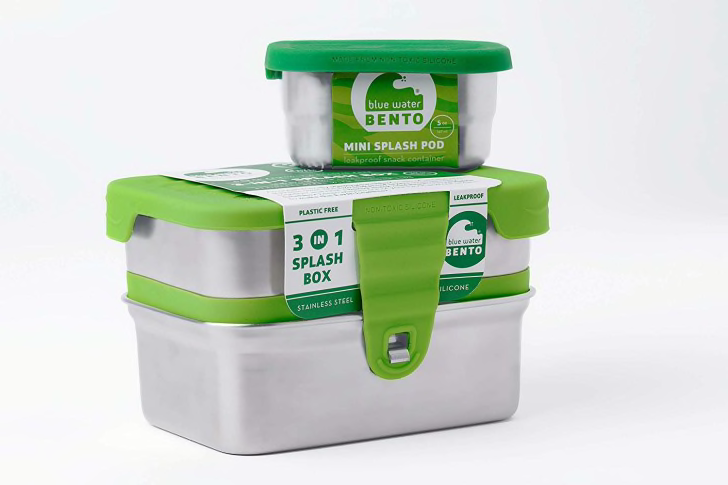 Plastic-free is increasingly becoming the new norm. The Splash Box has three non-toxic stainless steel food trays that lock together for easy transport, while simultaneously keeping your peas apart from your mashed potatoes. It's leak-proof, shatter-proof, and safe for the dishwasher, oven, and toaster oven on medium heat.
Find It on Amazon for $35.
This travel kit is the perfect accessory for frequent fliers who want to freshen up after touching down in a new city or country. Clinique's black High Impact mascara and cleansing balm are wrapped up in a convenient—and TSA-approved!—travel ornament.
Find It at Walmart for $16 and also at these other retailers:
4. "Weird & Wacky USA" Jigsaw Puzzle
Help someone discover the quirky side of America with this 500-piece puzzle illustrated by an award-winning designer. Colorful icons highlight the odd roadside attractions in each state, and who knows—it might even inspire an unforgettable road trip.
Find It at the True South Puzzle Company for $27.
Give the gift of good cheese this season with a DIY kit. The box holds enough ingredients to make 10 batches of cheese, including classic varieties such as mozzarella, burrata, and ricotta. No prior cheesemaking experience necessary.
Find It at Uncommon Goods for $25.
Music lovers will appreciate this durable Bluetooth speaker with a built-in suction and stick pad. They can slap it on a shower wall, mirror, or other smooth surface around the house or backyard and get their groove on. It can be submerged in water for 30 minutes and comes with a rechargeable battery.
Find It at these retailers:
7. SmartKlear Carbon Smartphone Cleaner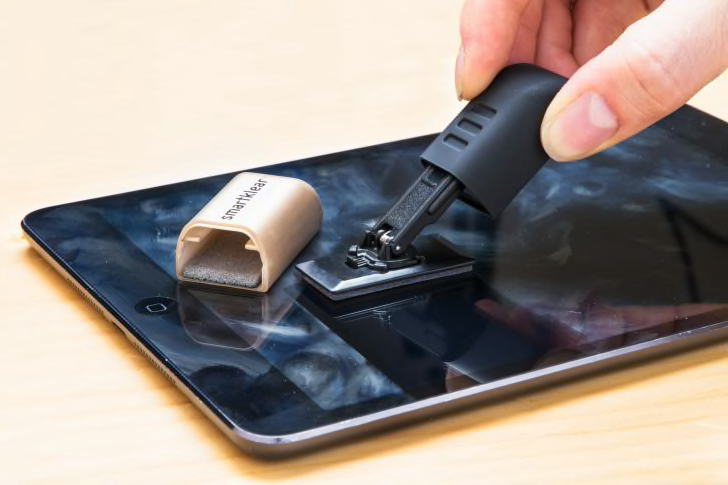 NASA uses SmartKlear's carbon cleaning technology in its space station, and it can now be used to scrub the germs and grime from any smartphone or electronic screen. Simply swipe the device across a screen, and the carbon substance it contains will get to work repelling any dirt or oil it encounters.
Find It at Amazon for $16 and also at these other retailers:
8. The Tile Mate
We all know that one person who's constantly misplacing their things. The Tile Mate Bluetooth tracker will help jog their memory. It hooks onto keychains, suitcases, purses, bikes, and more to help the user find their items via a companion app. It also works in reverse: Pressing a button on the Tile Mate makes the user's phone ring, even when it's on silent.
Find It on Amazon for $10 and also at these other retailers:
9. Homesick Books Candle
The Books candle from Homesick would make a thoughtful gift for any bibliophile who already has a stack of unread novels at home. Top notes of orange and nutmeg are rounded out by earthy fragrances like sandalwood and cedarwood. Splashes of vanilla, balsam, and amber form the base and help recreate the unmistakable scent of a good book.
Find It at Homesick Candles for $30 and also at these other retailers:
10. Chocolate-Covered Snowman Oreos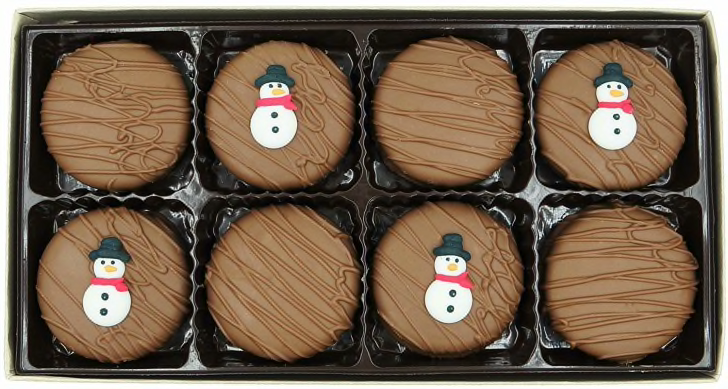 Who doesn't love holiday-themed chocolates? These milk chocolate-drizzled Oreos from Philadelphia Candies come with candy snowmen on top. There's also a dark chocolate version, as well as a milk chocolate version with winter snowflakes on top.
Find It on Amazon for $15.
11. Ulla Hydration Reminder Bottle
We often forget to stay hydrated, but this water bottle accessory from Ulla makes it easy to foster healthy habits. The silicone band fits over most bottles and sends out reminders to take a swig any time the user has gone too long without water. Get one for a health-conscious coworker, or perhaps that one person you know who seems to be subsisting solely on coffee.
Find It at The Grommet for $25 or on Amazon for $29.