7 Products to Make Your Iced Coffee Obsession More Eco-Friendly
As you may have heard, plastic straws are on their way out. There is an increasing push to phase out hard-to-recycle single-use straws in restaurant chains and even entire cities, and many people are becoming aware for the first time of just how harmful straws can be to the environment. So what's an iced coffee aficionado to do? While there are some alternatives in the works—a new paper straw factory is opening in the UK, for one, and Starbucks is redesigning its plastic lids to include sippable lips—for now, finding alternatives to grabbing several plastic straws a day to support an addiction to cold brew, iced tea, and fountain sodas is largely up to consumers themselves.
If you've started feeling guilty about your two-a-day iced coffee habit or your love of an icy Coke, there are a number of options to replace all that single-use plastic you're used to throwing away. Here are seven items that can make your cold beverage purchases a little more environmentally friendly. Let's start with the straws themselves.
Mental Floss has affiliate relationships with certain retailers and may receive a small percentage of sales. But we only get commission on items you buy and don't return, so we're only happy if you're happy. Good luck gift hunting!
1. COMPOSTABLE STRAWS; $11 FOR 100
Don't want to give up the convenience of a classic plastic straw? Repurpose makes compostable straws out of plant matter that, unlike the conventional plastic options, will biodegrade. According to the company, they'll break down after 180 days in an industrial composting facility. Amazon reviewers note that the straws look and feel almost exactly like plastic straws, so you don't have to change your habits too much.
Find It: Amazon
2. STAINLESS STEEL STRAWS; $10 FOR 6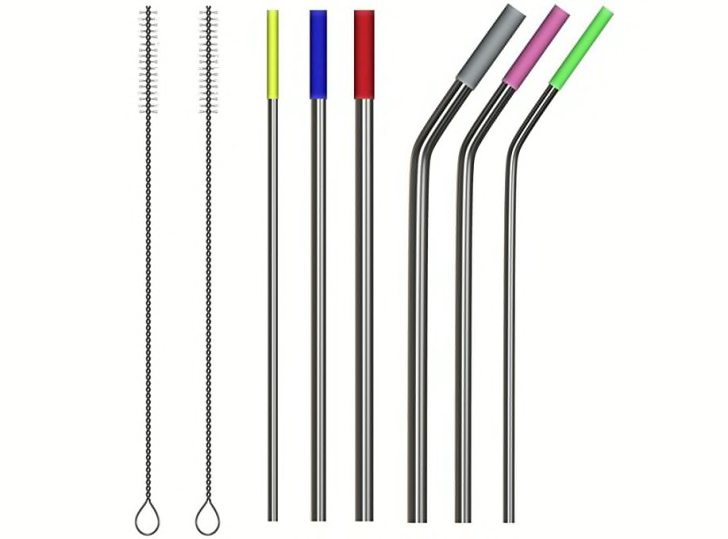 Stainless steel is durable, easy to clean, and affordable, making it the go-to option for many people looking to replace their plastic straws. However, metal straws can also feel harsh and cold. Luckily, each straw in this set has a soft silicone tip on the top for maximum mouth comfort. This pack of six comes with both straight and bent straws of different diameters, meaning they'll work for thick smoothies as well as for coffee or soda. They're also slightly longer than regular straws, so they'll fit tall tumblers.
Find It: Amazon
3. GLASS STRAWS; $20 FOR 2
Glass straws are smooth to sip from, especially if you're a person who doesn't love the metallic taste of stainless steel straws. While they look delicate, they're sturdier than you think, and can survive banging around in your bag all day or getting thrown in the sink. (They're made from the same type of shatterproof glass as old-school Pyrex dishware.) While these colorful straws aren't the cheapest glass versions available on the web, they come with a crucial component that not all manufacturers offer—a carrying case to keep your straws clean and safe throughout the day.
Find It: Amazon
4. STRAW CARRYING CASE; $14
Shaunacy Ferro, Mental Floss
Not all reusable straws come with a case, but having one will improve the likelihood that you'll commit to ditching plastic straws. Instead of planning every coffee, soda, or smoothie you'll buy, it's easiest to always have one of your reusable straws waiting in your bag. These colorful pouches from Hawaii-based Etsy seller Bernadette Rapozo come in a variety of patterns and feature a waterproof lining so that you don't have to worry about throwing your still-slightly-wet straw in it after you finish your drink.
Find It: Etsy
5. HYDRO FLASK 22-OUNCE TUMBLER AND STRAW LID; $43 FOR BOTH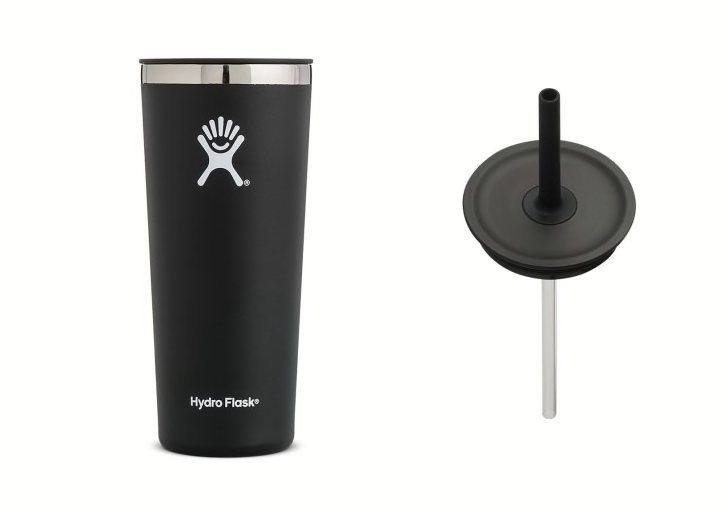 If you've already committed to trying to reduce your straw usage, you may also find yourself feeling guilty about using plastic cups. This well-insulated stainless steel cup from Hydro Flask promises to fit in most cupholders and has a non-slip powder finish on the exterior for easy gripping, two design factors that led to it being named The Wirecutter's favorite tumbler. The double-wall structure is made to keep your drink cold for a full 24 hours.
Hydro Flask recently debuted a splash-proof straw lid, sold separately, that makes the tumbler feel more like a traditional disposable plastic cup. The tumblers come in various sizes, including 10-ounce versions designed for wine and liquor—or, alternately, juice and small amounts of coffee—and 22-ounce and 32-ounce versions for larger drinks. For coffee, we prefer the 22-ounce version, because very few people can handle 32 ounces of highly caffeinated cold brew.
Find It: on Amazon: Tumbler, Lid
6. TERVIS INSULATED 16-OUNCE TUMBLER AND LID; $16 FOR BOTH
Tervis makes simple, affordable plastic tumblers that come in a wide variety of designs and colors. (You may recognize them from college bookstores, since they're available with a number of university's emblems on them.) They're especially handy if you're looking to pair them with your own straw, since the large, puncture-style hole can fit almost any size straw.
Find It: on Amazon: Tumbler, Lid
7. SIMPLE MODERN 16-OUNCE TUMBLER WITH LID; $16
If you want something similar in design to a single-use plastic cafe cup but are looking for something more durable than most reusable plastic tumblers, Simple Modern's 16-ounce stainless steel travel tumblers might be the right fit. While more affordable than Hydro Flask's version, these tumblers also feature stainless steel insulated walls designed to keep your drink icy for hours. Each one also comes with two lids: a straw lid for cold drinks and a sippable lid for hot beverages.
Find It: Amazon