11 Gifts for the Curious Kids in Your Life
No matter their age, you want to find gifts that will keep the kids in your life entertained, stimulated, and give them a sense of accomplishment—even during playtime. Luckily, these 11 gifts will do all of that, and will encourage their curiosity to grow.
Mental Floss has affiliate relationships with certain retailers and may receive a small percentage of any sale. But we only get commission on items you buy and don't return, so we're only happy if you're happy. Thanks for helping us pay the bills!
Want to get kids excited about the next big family road trip? Or give them some talking points about their favorite aunt's home state? This board game helps them understand the geography of the U.S., as well as trivia on each of the 50 states and the major landmarks and capitals.
Find It: Young Explorers
Whether they join FFA or not, kids can get a head start on understanding horticulture with this indoor garden system. Plant any root vegetable—carrots, radishes, onions, etc—and watch them obsess over the underground view of their harvest.
Find It: Young Explorers
This is definitely the droid you're looking for. Recommended for kids in grades 3 to 8, this customizable robot comes with an app that defines more than a dozen missions for kids to send their creations on. And for any Star Wars fans, the Droid makes 20 different sounds, just like from the movies.
Find It: littleBits
Kids ages 3 and up can play games, make their own music, and work on language, math, and memory skills with this activity-filled laptop. Plus, the English/Spanish component will help enhance the child's fluency in both languages.
Find It: Imagine Toys
Think beyond the coloring book. By attaching thick, non-toxic chalk to the back of a bike, kids can work on increased spatial awareness, collaborative drawings with friends, and may perhaps have a greater appreciation for the large-scale, colorful work of a Basquiat or Pollock.
Find It: Uncommon Goods
For little girls who want to shoot for the stars, this Katherine Johnson-inspired dress illustrates her human-calculator abilities as drawn out on a chalkboard. Rocket propulsion simulation, gravity loss equations, etc. You know, the basics.
Find It: Svaha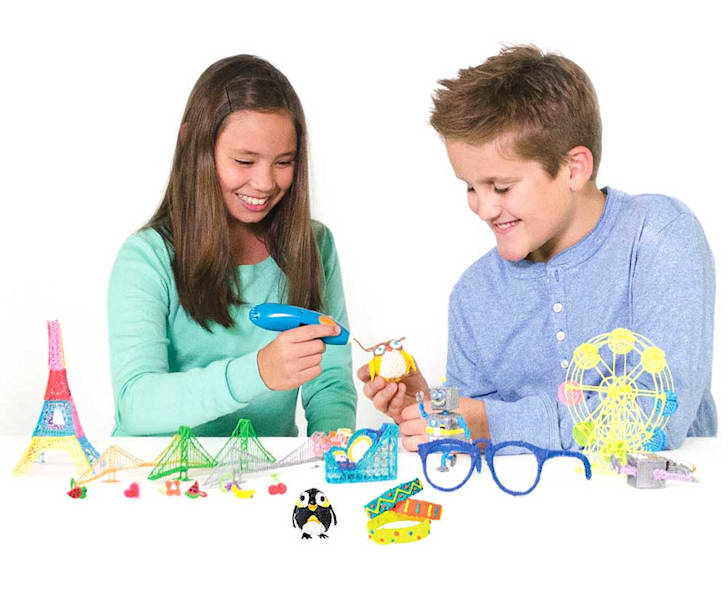 This wireless pen allows kids to freestyle draw in the air—the eco-plastic filament cools in place quickly, giving kids plenty of practice with spatial reasoning without the costs of a full 3D printer.
Find It: Amazon
For musical-obsessed kids, this curtain call of famous costumes can serve as a checklist for any Broadway productions they haven't seen (or, more likely, memorized the cast recording and seen the movie version of) yet. Perennial children's favorites like Annie, Grease, and Wicked are included, but you might want to have an answer ready for when your preteen cousin asks to watch Cabaret.
Find It: Pop Chart Lab
Specially designed by experts to stimulate infants for their first year, this play mat grows with your favorite baby. It has five developmental zones in addition to 24 different stage-based activities—like teethers, mirrors, and colorful flash cards. And, when baby becomes a toddler, the mat converts into a tent fort for further imaginative play.
Find It: Amazon
Budding animators who need to fine-tune their skills (and patience!) will spend hours moving these silly characters around slowly, photographing their adventures, and editing the film into mini-movies.
Find It: Uncommon Goods
Kid-proof and specially designed for tiny hands and faces, these binoculars can help preschoolers get to know the world around them. Play a game like "I Spy" and have them find squirrels in trees, clouds in the sky, or all those Cheerios they spilled behind their bed.
Find It: Amazon