30 Stores That Will Be Closed on Thanksgiving
In recent years, the Black Friday craze has inched further and further into Thanksgiving. With stores opening as early as 5 p.m. on Thursday, festive dinners are being overshadowed by shopping frenzies. Retailers like to point the blame at consumers—according to the National Retail Federation, almost six in 10 Americans plan to shop Thanksgiving weekend—but opening a day early also runs the risk of cannibalizing sales that could have been made on Friday. Furthermore, with stores open the day before, the idea of going shopping in the middle of the night for already picked-over merchandise seems unnecessary.
But there are still stores that allow workers to stay home and enjoy the holiday. BestBlackFriday.com keeps a running (and updated) list of which companies will not be open on Thanksgiving. 
1. DSW
DSW employees can kick off their (well-priced) shoes and settle in for a holiday spent with friends and family; all of the chain's stores will be closed on Thanksgiving.

2. COSTCO
The warehouse club has always had a reputation for being good to its employees. This Thanksgiving, Costco's 200,000-plus team members will have the opportunity to spend the holiday with their families (same goes for Christmas and New Year's Day).
3. NORDSTROM
Nordstrom won't be open for business on Thanksgiving, but some employees will still be coming in for work. "[F]or the past 40+ years, some of our employees work on Thanksgiving eve and into the wee hours of the morning on Thanksgiving Day to decorate our stores with our holiday trim," a company spokesperson told ThinkProgress in 2014. "This is mostly a group of employees who have volunteered to be there and some bring along relatives or friends to join in. We'll also have a small team working in our Nordstrom.com Call Centers on Thanksgiving to serve the many customers who shop online that day."
4. DILLARD'S
In 2014, a Dillard's spokesperson told ThinkProgress, "We choose to remain closed on Thanksgiving in longstanding tradition of honoring of our customers' and associates' time with family."
5. BJ'S WHOLESALE CLUB
BJ's Wholesale Club will be closed Thanksgiving. "Thanksgiving gives family and friends the chance to spend time together," Chris Baldwin, the company's president and CEO, said in a press release in late September. "We're committed to letting our team members enjoy the holiday, and we'll be ready bright and early for our biggest Black Friday ever."
6. BURLINGTON
"Thanksgiving is more than turkey. Or football. Or sleeping in," the company formerly known as Burlington Coat Factory wrote in a blog post. "It's a time to reflect. To be thankful and appreciate what we have. To celebrate and share with family and friends near and far. That's why Burlington stores are closed on Thanksgiving Day, so our customers and associates can enjoy time with their friends and family near and far."
7. REI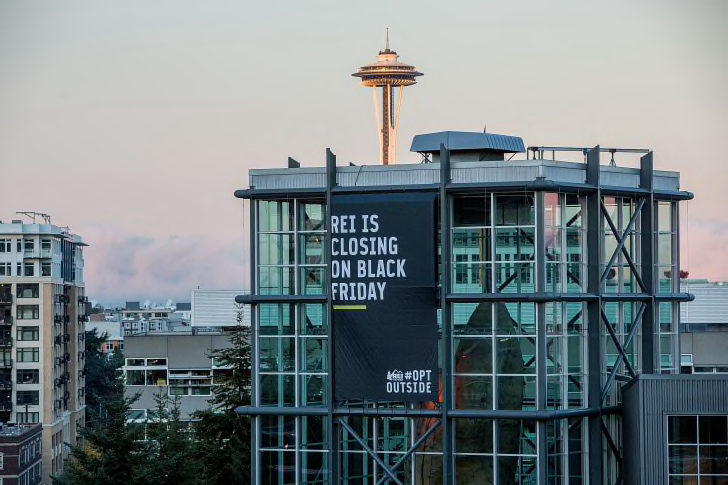 REI will close all of its 151 stores for both Thanksgiving and Black Friday—yet all 12,000 of the retailer's employees, including hourly workers, will be paid to embrace the company's mission of getting people outdoors. "When you look at retail today, this playbook of promotions and consumerism, it's not working," REI chief executive Jerry Stritzke told Fortune. "It feels like it's lost momentum since then."
8. SUR LA TABLE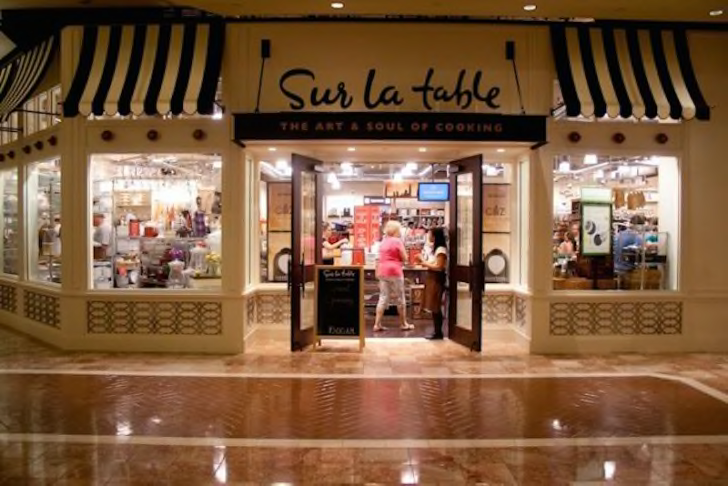 Better make sure you've got all the Thanksgiving Day kitchen appliances and tools you need before the big day; kitchenware haven Sur La Table will be closed.
9. CRATE & BARREL
Crate & Barrel employees will be staying home on Thanksgiving this year.
10. JO-ANN FABRICS AND CRAFTS
Your arts and crafts projects will have to wait until Friday: Being closed on Thanksgiving has been a long-held tradition for Jo-Ann's stores.
11. T.J. MAXX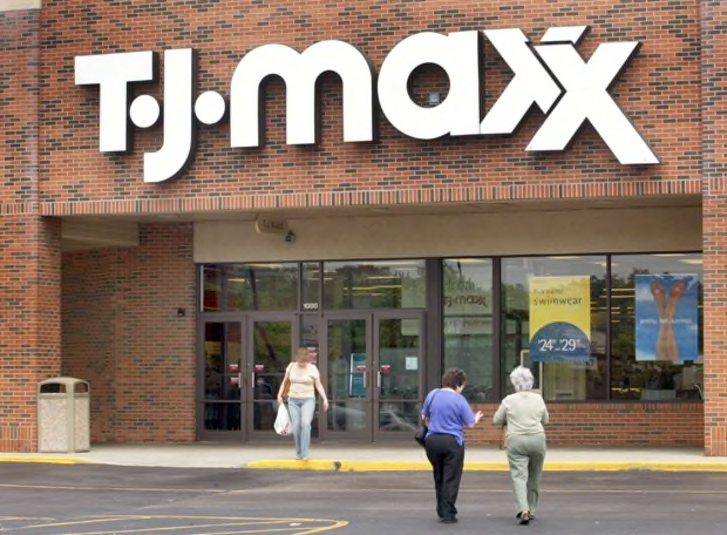 "We feel so strongly about our employees spending Thanksgiving with their families," T.J. Maxx and Marshalls spokeswoman Doreen Thompson said in 2013. "And we don't anticipate this changing in the future."
12. MARSHALLS
Marshalls, like T.J. Maxx, is owned by TJX and will therefore also be closed.
13. PIER 1 IMPORTS
For the past couple of years, Pier 1 Imports has decided to stay closed for the holiday.
14. PUBLIX
You'll have to buy your last-minute Thanksgiving fixings somewhere other than Publix.
15. SIERRA TRADING POST
"As in past years, Sierra Trading Post stores will be closed on Thanksgiving so our associates can enjoy the holiday with family and friends," a company spokesperson said.
16. BARNES & NOBLE
Barnes & Noble wants its employees to enjoy the holiday with their families (then curl up with a good book).
17. SAM'S CLUB
Sam's Club is closed on Easter, Thanksgiving, Christmas, and New Year's Day.
18. IKEA
If you're craving Swedish meatballs instead of turkey (or, you know, you really need an ottoman), you'll have to wait it out. Most IKEA locations in the U.S. will be closed on Thanksgiving so employees can spend time with family and friends.
19. THE HOME DEPOT
The Home Depot stays closed on Thanksgiving and Christmas.
20. PATAGONIA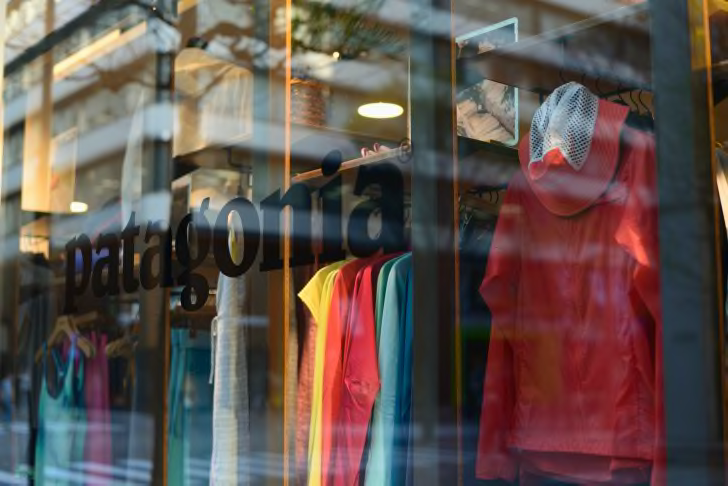 In 2014, when asked why Patagonia stores close on Thanksgiving, a spokesperson responded, "It's a holiday—we're closed!"
21. STAPLES 
It wasn't until 2015 that Staples decided to close its stores on Turkey Day. "We want our customers and associates to enjoy Thanksgiving their own way," former company president Demos Parneros said in a press release at the time of the announcement.
22. PETSMART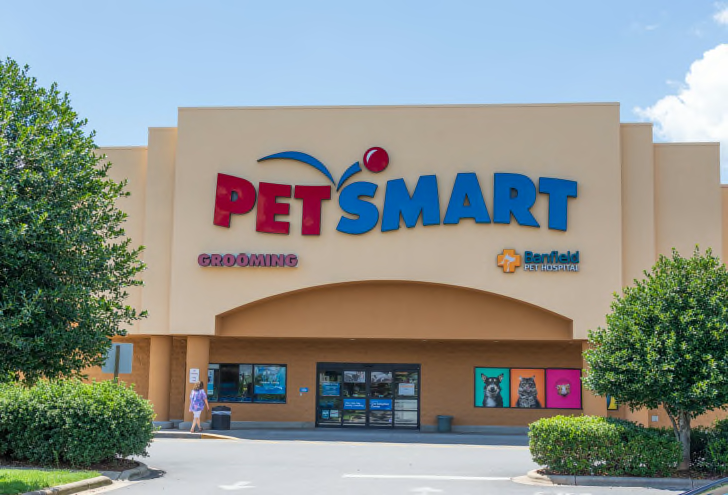 Better make sure you've got enough catnip and dog treats to last the day; PetSmart will be closed.
23. LOWE'S
The home improvement giant gives its employees Thanksgiving Day off to spend with their families. 
24. GUITAR CENTER
The musical instrument retailer will be closed on Thanksgiving Day. The rocking will recommence on Friday morning.
25. MALL OF AMERICA
By closing its doors on Thanksgiving, the Mall of America has brought a bit of excitement back to Black Friday. "The energy has been extremely high," director of public relations Dan Jasper told CNBC in 2016. "It's a completely different vibe than the past few years."
26. THE CONTAINER STORE
In 2015, The Container Store posted a statement on its blog explaining why they choose to close on Thanksgiving Day: "We love seeing all of our customers—don't get us wrong! But we feel it's more important for all of our employees to be able to spend this holiday with their families, in order to recharge and renew and come back to work ready to take on the holiday season!"
27. NEIMAN MARCUS
The luxury department store will be closed for Thanksgiving. But if you're so inclined, you can order a Thanksgiving dinner for 12 from them for a cool $495.
28. PETCO
PETCO employees will be spending the holiday home with their own pets this year.
29. OUTDOOR RESEARCH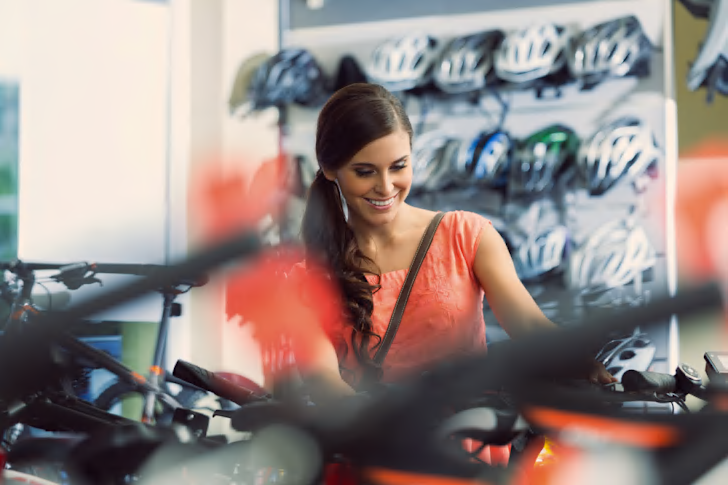 In 2016, the outdoor apparel and gear company said it would be joining REI in its #OptOutside initiative, and will be closed on both Thanksgiving and Black Friday. They're repeating the newfound tradition again this year.
30. OFFICE DEPOT
"As we evaluated our store hours for this holiday and weighed the business and personal considerations, we decided it was best to provide our associates with the day off to spend time with family and friends by closing our retail stores on Thanksgiving Day," Office Depot's former COO Troy Rice said in a 2016 press release. They're doing the same this year as well.
This is just a fraction of the list of stores deciding to stay closed on Thanksgiving. Check out of the full list on BestBlackFriday.com.